The sidekicks of Despicable Me now take centre-stage – to gloriously silly effect
I watched this film with my Lil-brother last week. Actually the premiere film in USA on 10th July, 2015. In Indonesia, it started on 17th June, 2015 (I think the reason to play the movie in Asia-Pacific first was the issue of  the film industry of USA was on the decline, etc.). Well, we would not discuss about the industry. So left it behind 🙂
Despicable Me 2 was funnier than its predecessor because it had "more minions", so putting the sidekicks center-stage should ramp up the laughs even further, right? Although the opening "minions through history" sequence proves a very tough act to follow, this slice of burbling slapstick animation did keep me grinning and giggling throughout. The plot follows Kevin, Stuart and Bob from Antarctica to Orlando, where the 1968 Villain-Con unites them with Sandra Bullock's rocket-skirted, Scarlet Overkill. Scarlet dreams of being the Queen of England, but a botched Tower of London heist leaves HRH (Jennifer Saunders) in the pub and King Bob on the throne – albeit briefly. It's gloriously silly but still pop-culture-literate stuff (was that Stanley Kubrick faking the moon landing?), packed with dazzlingly frenetic action and fabulously expressive verbal gobbledygook, the latter largely courtesy of co-director Pierre Coffin. I started laughing the moment I heard the minions singing the Universal theme in their helium-inflected tones, and remained tickled yellow for the following 90 minutes.
Here the most fave scene (consider of my brother and I perceptions)
King Bob drop the mic off like a King, oops sorry I mean he really Real King :-))
After we've watched this cutie-pie Minions film, we recognize to buy the merchandises of Minions, such as action figure, dolls, or just an-ice-cream (?). So, I came to McDonald's to buy my Lil-brother a Happy Meal and banana-choc Mc flurry (Minions version of Mc Flurry) for me. So, I really surprise that we got the Minions toys, which is really cute. So after that I googling that Happy Meals ads, then I got this pamphlet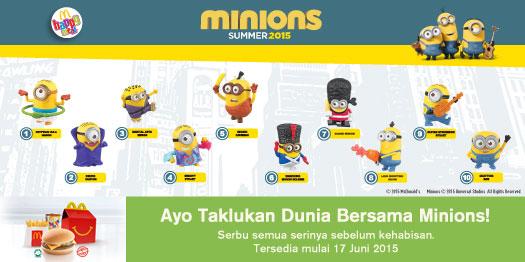 Woohoo, I think there will be a lot of kids will buy them or just collect them up.
This movie should you watched together with your pals or with your siblings. BTW, it's really good to spend holiday together with your fellas .
Hope you get great holidays,
♥ ♥ ♥,